4 Programs to Help Your Child Learn Video Game Programming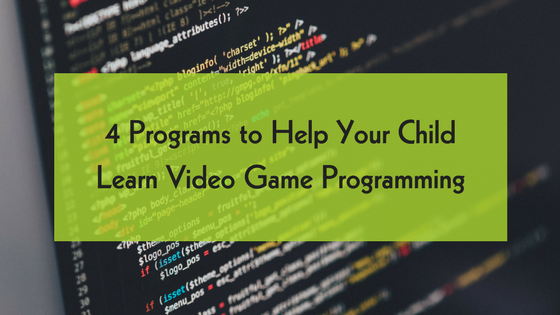 The world is becoming more technological by the minute and if there is one thing leaders and trendsetters agree on, it is that programming is going to be the single best professional opportunity in the world. So here are five games that we've compiled for you to get your kid interested in coding! Whether your child pursues coding as a career, or not, anyone could learn a lot from the lessons within.
Lightbot and Lightbot Jr.
Lightbot is a coding based puzzle game available for Windows, iOS, and Android. To win the game, you need to make your robot light up all of the blue tiles on a 3D grid. The twist: you have to do this all in one run by programming instructions for your robot to complete the task. It's meant to teach sequencing, overloading, procedures, recursive loops, and conditionals.
Kodable
Kodable's 105 is an iOs game only and it works with maze-like levels to help teach programming concepts such as conditionals, loops, functions, and debugging. It avoids using text entirely, making it a high entry point for children ages 5-8. Its alien protagonist is fuzzy and cute to appeal to kids of all ages. According to Kodable's co-founder Gretchen Huebner, giving kids an opportunity to be challenged at such an early age proves how smart they are. The free version contains the first 45 levels, and in-app purchases can unlock more levels and concepts. The $7 pro-version also adds vocabulary lessons and learning guides to further enhance your child's programming knowledge.
Code Combat
Code Combat is only available for web browsers for kids ages 13 and up. Like many of the other games, this one utilizes the player to input codes to play. Unlike the others, it uses actual code such as JavaScript, with experimental support for CoffeeScript, Python, Clojure, and Lua. There are single-player levels to work within this fantasy-themed game; then you could unleash your new skills in a multiplayer tournament called Greed, which has $40,000 worth of prizes up for grabs! Code Combat hopes to stay free so that it could help companies recruit high-level players. Not many games could land you a job, however, this one certainly can.
Human Resource Machine
Human Resource Machine is a visual programming-based puzzle game released for Microsoft Windows, OS X, Wii U, Linux, iOS, Android, and Nintendo Switch. It's all about data processing and uses the concept of a corporate office worker assigned to perform tasks that involve moving objects from an inbox to an outbox and transferring storage locations as a metaphor for assembly language concepts. Since the tiles rolling in are randomized, your program has to account for all possible combinations of numbers and letters. Dealing with randomizations and factoring in all possible combinations is something all programmers have to deal with. The bespoke terminology in the game may not translate into modern programming languages, but the concepts they teach are valuable and relevant to the industry.
Hack N' Slash
Hack N'Slash is a top-down action-adventure video game, similar to the Legend of Zelda, though with in-game weapons and objects that allow the player to hack the game's world to achieve victory. Yes, you heard me. The goal of the game is to hack it, not slash it like you would with Zelda. Hack N' Slash has you reprogram almost all the objects in the game to the point where you could cause the game to crash by rewriting it. It's a bit more advanced for the beginner level of coding, but it does offer intermediate levels to start out. It's currently released for Linux, Microsoft Windows, and OS X.
Come code with us!
There are more games out there that could challenge your coding skills, but these five are the ones we've found that could best help you to get started. If you're planning a birthday party or activities for kids, come by and book a GameTruck today and we'll make sure your children have the time of their lives! We offer the latest in video gaming for birthday parties, group events, and more! Plan an event by calling us at (866) 253-3191 or get a free quote by visiting our website today.