Category:
GameTruck News and Updates
Find updates about partnerships, new games, and new offerings related to the GameTruck family as well as information regarding franchise opportunities. GameTruck Licensing LLC offers video game, laser tag, and BubbleSoccer party trucks in various locations across the USA.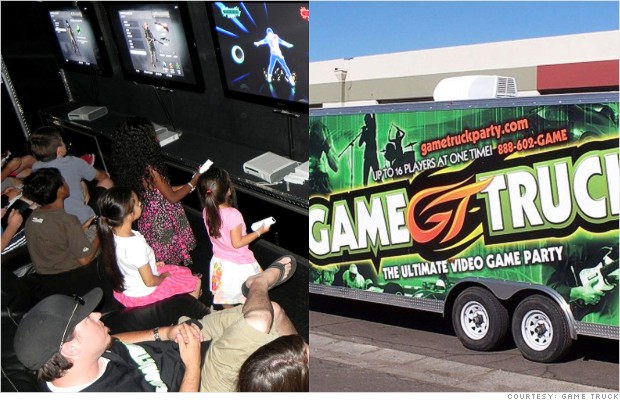 Scott Novis wanted to create a dream arcade.
So the former videogame designer bought eight large projection TVs from Costco (COST, Fortune 500), covered the walls of his garage with plywood, installed all the popular consoles — including Nintendo's GameCube, Sony's (SNE) PS2 and Microsoft's (MSFT, Fortune 500) XBox — and loaded up on games like Halo 2, Mario and Mario Kart Double Dash.
An executive with Disney (DIS, Fortune 500) at the time, Novis thought of transplanting the entire setup to a truck, making a video arcade on wheels that would appeal to kids. Later that year, he ordered a trailer and created his first GameTruck. It had four 50-inch plasma TVs on the wall, LED lighting and carpeted walls.
"It was a visceral experience, like you were stepping inside of the game," he said. Novis rented out the GameTruck, which could accommodate up to 20 kids, for birthday parties.
"Moms loved it," he said. "We could park it in front of the house and mom could keep an eye on the kids and not deal with any mess in her house."
Novis franchised the idea in 2008 and immediately locked in five franchisees. "Business exploded after that," he said. Today, GameTruck has 79 franchisees operating 85 trucks nationwide. He expects to add another 20 to 25 franchisees this year.
"We have a generation of kids today that are connected by technology but physically isolated from each other," said Novis. "GameTruck is bringing these kids together in a fun way."
Click HERE to view the full article.
GameTruck Licensing, LLC is excited to be ranked #218 in Entrepreneur Magazine's 34th annual Franchise 500®, moving up 167 spots since last year's ranking.
To view the full ranking and any of these related stories, pick up a copy of the January 2013 issue of Entrepreneur, or visit http://www.entrepreneur.com/franchise500/index.html.
Since being founded in 2006, GameTruck has steadily grown to more than 70 franchisees operating 85 GameTruck rigs in 155 territories across 25 states and Lagos, Nigeria. GameTruck expects to add 30 new franchisees and 60 new territories in 2013, with long-range projections for 200 to 250 units covering the U.S. and Canada. GameTruck is the owner of U.S. Pat. No. 8,029,368 issued October 4, 2011.
Franchise 500®:#218 (2013), #385 (2012),
Fastest-Growing: #87 (2012),
Top New: #37 (2012)

Game Truck:  The Perfect Christmas Break Party
This bright green truck is what pulled up in front of our house yesterday, just in the nick of time.  It was the perfect remedy for a getting-a-little-long for everyone Christmas break!
Never heard of The Game Truck?  Neither had I.  That's probably because the Minneapolis Game Truck Party franchise is less than six months old.   The Game Truck is a video gaming party on wheels, and it pulls up right outside your home.  It's equipped with five HDTVs and all the recent gaming systems and games.  Its row of plush, comfy seats accommodates up to 20 people (we had fifteen at our party).  Plus, each Game Truck provides a "Game Coach" so parents can relax.  The cool thing was we got to be the first in our area to try it out and give our neighbors and friends a uniquely fun experience.
The truck pulled up about a half-hour before the party began to set up and get their generator going.  The Game Truck is climate-controlled and was comfortable even in our chilly 15-degree Minnesota weather –something I was curious about.  The kids started out by wearing their coats but shed them after about five minutes in the truck.   It got so warm we had to crack the door a little bit eventually.
The Game Coach at our party, John, was friendly and great with the kids.  He started out by having us select games, which were on a magnetic display board pictured here (we put games geared towards older teens and adults away before the kids got on board).   Next, he explained the rules to the kiddos to ensure that everyone had fun.  He was the go-to guy when someone wanted to switch games, and he was also on the lookout for kids who may not be getting enough playtime.  There really isn't even the need for a parent to be inside the whole time.  He said often times the parents who hire the truck hang out inside while the kids play.
Kids were totally engaged in game play the entire time.  For our girls, the most popular games were Wipe Out and Let's Dance 4. The boys were into Madden NFL 13, Super Mario Brothers, and Skylanders.  They were so immersed in what they were doing they barely noticed me snapping these great shots of them (view more photos here:  Game Truck Party).
With fifteen kids aboard and TVs blaring, it got really loud in the Game Truck, but the noise was completely contained.  I stepped out a few times and almost unbelievably couldn't hear a peep from outside.
As a mom, the best part of the Game Truck Party experience was that we had the convenience of being at home, but there was absolutely no clean-up or mess inside the house.  In fact, none the kids never asked to leave the truck – not even for a bathroom break!
Giveaway:  Host a Game Truck Party Courtesy of Mommysavers!
We don't want to leave our readers out of the fun, so we're giving away a Game Truck Party experience to one lucky Mommysavers reader!  To qualify, you have to live within a Game Truck Franchise zip code (view the Game Truck Locations).  We also ask that you hold your party on a weekday.  All Mommysavers Daily Deal newsletter subscribers are eligible to enter, but you can rack up extra entries by following us on our other social media platforms.  Good luck!
To enter the contest, click HERE.